With the summer months approaching us and people getting ready to open their pools for the season, we thought it would be appropriate to write an article about how to open your swimming pool for the summer season when utilizing a salt chlorine generator.
It is recommended when starting up your pool that you test the pool water and add needed chemicals to balance it properly. Usually, the water would need to be manually chlorine-shocked when first starting up the pool. It is recommended to add the necessary chlorine manually at start up, rather than using the BOOST cycle of the salt chlorine generator, so you're not using the hours-of-cell life remaining. While the AutoPilot will operate under cold water conditions, many other salt chlorine generator systems will remain in a protect mode until water temperatures increase above 60°F.
Once the water has been balanced, a thorough inspection of the system should be done and should include the following:
Inspect Cell.
Inspect Manifold Screen.
Test Tri-Sensor Flow Switch.
Clean and/or Replace the items as necessary.
We are including a chart for your reference with the recommended water chemistry range, suggested test schedules, and corrective actions to help you correct unbalanced water conditions. Ensure that your overall chemical levels are balanced, according to the Saturation Index. To read more about the saturation index please click here.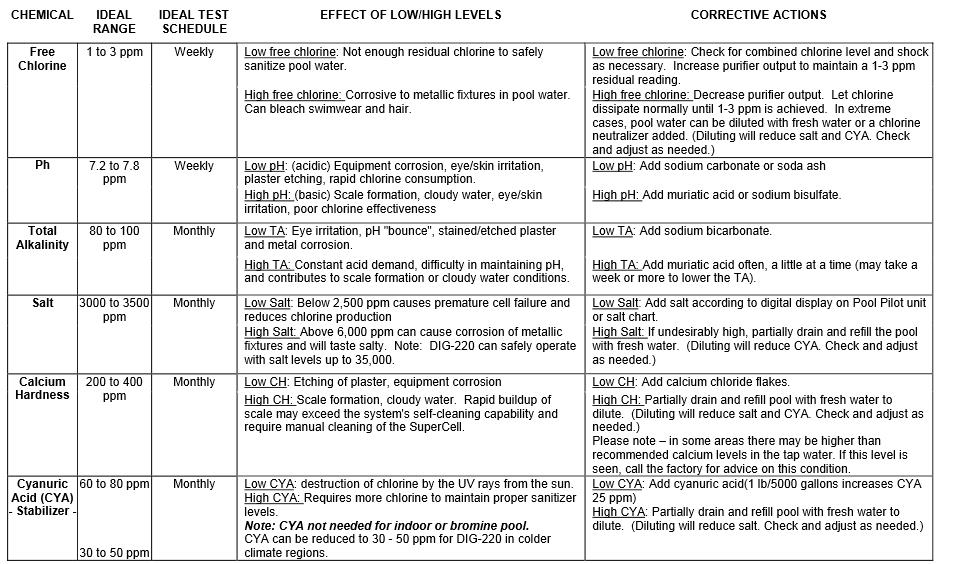 We hope this information helps answer any questions you may have about opening your pool for the season with a salt chlorine generator. Please feel free to leave any comments or questions please feel free to leave a comment below.
How Do I Open My Pool For The Season With a Salt Chlorine Generator?